Mobile On-Location Portrait Studio
We offer a very unique on-location/in-office, hotel, or party portrait studio service. To support executives and staff, we travel to your office or destination of choice to install a full compliment of formal portrait studio equipment. We install lights, backdrop, and all associated camera equipment, only needing a 15' x 20' area. Your final photographs are rendered identically to those captured in a fixed portrait studio without the hassle of travel, parking, and waiting. Customers can see their portrait immediately after it is taken.
For business portraits, fees can be as low as $50.00 per person for a wide range of poses and permanent ownership of their high resolution digital photo files when at least 20 staff members are photographed.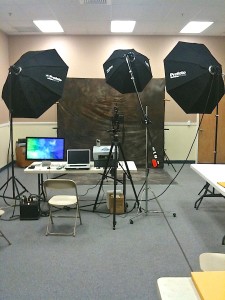 Clients receive three head-and-shoulder and three half-length poses. One facing left, one facing center, one facing right of each size. I deliver high-resolution photo files saved to DVD with resolution from wallet to vehicle wrap size. All formal portraits are delivered with unlimited shared copyright release in writing.
Our mobile portrait studio service is also an outstanding amenity for parties or other social functions.
One or two 10′ x 20′ backdrops to accommodate groups up to 25 persons.
Groups of 100+ using existing background, unlimited number outdoors.
Wireless transmissions provide photographs for review 5-7 seconds after shot is taken.
 On-location 5-minute 8″ x 10″ color print capability for parties and social events.